Thursday, May 08, 2014
[Book Review] National Geographic Traveler: Panama by Christopher P. Baker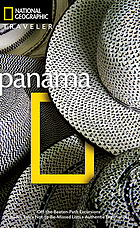 Nonfiction/Travel
Marilyn
reviews
NATIONAL GEOGRAPHIC TRAVELER: PANAMA
by Christopher P. Baker (National Geographic, 2011)
In
National Geographic Traveler: Panama
author Christopher P. Baker introduces the country with an informative History and Culture section. The book contains stunning photography by Gilles Mingasson. This is a delightful read for the armchair traveler, an informative book for students, and an excellent travel guide for tourists.
This opening passage from the book is a sample of what's in store for readers planning a once-in-a-lifetime trip to Panama or an imaginary visit through it's distinct regions:
"Grandiose, dramatic, spanning an entire continent: The Panama Canal is synonymous with the county it bisects. But the canal's importance should not overshadow the country's other treasures. Wildlife wonders, pristine beaches, and the modern delights of Panama City await visitors to Panama."
The book tours the unique provinces of Panama. Baker describes the accommodations in each community or town as a self-guided tour. Vividly described are the animals, communities, climate, and plants. Festivals and locales are described along with tourism tips. The author and other members of the National Geographic Society not only comment on sights but safety as well. The last section of the book is a travel wise section with information on planning a trip, hotels, restaurants, shopping, entertainment, and emergencies.
I enjoyed my armchair visit to Panama, our
2014 Memphis in May honored country
. The amazing photographs in this book allowed this armchair traveler to imagine walking through the streets, absorbing the sounds of Panama. The other books in
The National Geographic Traveler series
are recommended.
For anyone interested in Panama or information about the history of Memphis in May, please visit the Memphis and Shelby County Room on the fourth floor of the Benjamin L. Hooks Central Library or call 415-2742.
Labels: Nonfiction, Reviews by Marilyn Umfress, Travel Writing